8 Mokwheel's Electric Bikes Under $2,000 [High Value]
When searching to buy an electric bike online, price often dominates the decision-making process. Customers want affordable options with rich features. Mokwheel's electric bikes meet these needs, offering a balance of cost and quality. Our pricing reflects the value provided by our features. 
Highlighting this, we present eight of our best rated electric bikes, each priced under $2,000. Among these, several are even available at the remarkable price point of $1,000. Let's explore what exciting features each ebike has to offer.  
Mokwheel Best Commuter Electric Bike Under $2000
In the commuter ebikes, the focus is on ease of use and smooth riding experience. They're built for urban commuting and becoming your daily drivers. Mokwheels offers four ebikes in this segment under $2000, Asphalt, Asphalt ST, Mesa Lite and Mesa Lite ST.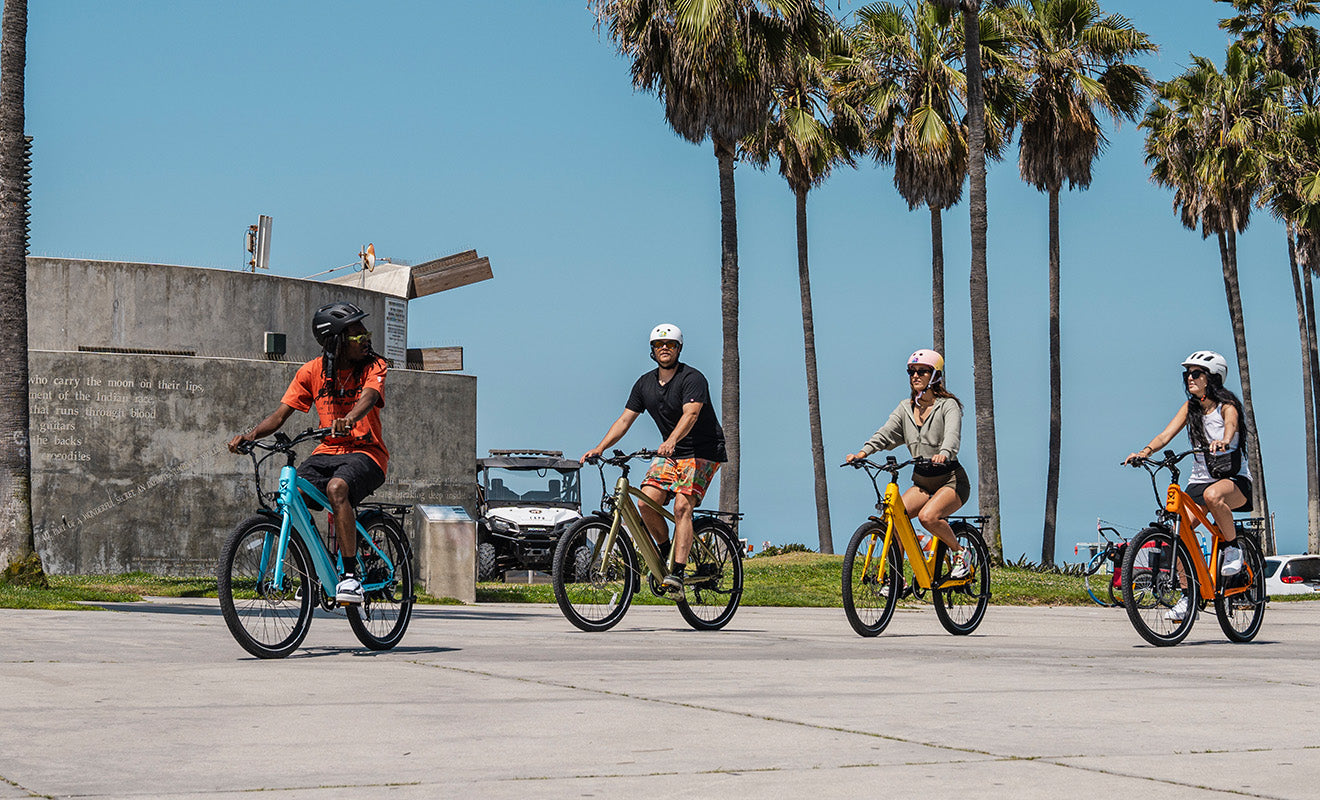 Asphalt & Asphalt ST
Power:

750W (500W for ST. variant)

Range:

80 miles

Battery:

48V 19.6Ah

Weight:

79 lbs. 

Capacity:

400 lbs. (300 lb for ST. variant)

Limited Time Black Friday Price:

$1,399
Asphalt is Mokwheel's most popular commuter ebike. It boasts a powerful 750W hub motor that takes the bike to a top speed of 28mph. The SAMSUNG's 940.8Wh battery provides an ample range of up to 80 miles. 
The bike has been designed based on the needs of daily city commuting. It's available in both step-through and step-over variants. The 2.75-inch tires along with a 100mm front travel suspension ensure you enjoy your daily commutes.
If you're someone who needs to carry daily groceries, it's a decent option with 400 lbs. payload capacity. Plus, there's a solid wood rack at the back, for carrying your baggage.
For a responsive and natural riding experience, it comes with torque sensors that guide the battery to assist when required. There are five pedal assistance levels to choose from. However, you can use the thumb throttle, if you wish to accelerate faster and ride it like a conventional bike. 
Mesa Lite & Mesa Lite ST
Power:

350W

Range:

40 – 50miles

Battery:

36V 14.7Ah 

Weight:

57 lbs. 

Capacity:

350lbs. (300 for ST. variant)

Limited Time Black Friday Price:

$999

 
Mesa Lite is Mokwheel's most affordable commuter ebike, priced at just under $1000. It has got a decent 350W motor and LG's 36V 14.7Ah battery. With this power setup, you can expect a range of 40 – 50 miles. 
Like Asphalt, it's also available in both design options; step-through and step-over design. It is positioned as an entry-level ebike, yet it shines among other commuter ebikes in the market with a similar price range. The bike just weighs 57 lbs. and can safely hold a load of 350 lbs. 
Its large and thin-sized tires (27.5 x 2.4 inches) are great for agile riding on paved paths. Plus, the 7-speed Shimano gearing results in smooth transitions. For pedal assistance, there are cadence sensors and for those who enjoy acceleration, the thumb throttle option is also present.  
You can also learn about: Mokwheel Mesa Lite ST vs. Aventon Pace 500.3 ST Face-Off: Urban Commuter's Delight
Mokwheel Best Fat Tire Electric Bike Under $2000
Fat tires are thicker and close to 4 inches wide. With more contact area with the ground, these tires provide more traction and grip; something that's needed for navigating through uneven terrains. These tires are usually added in all-terrain bikes, also known as fat tire ebikes. In this segment, Mokwheel has three models priced under $2000.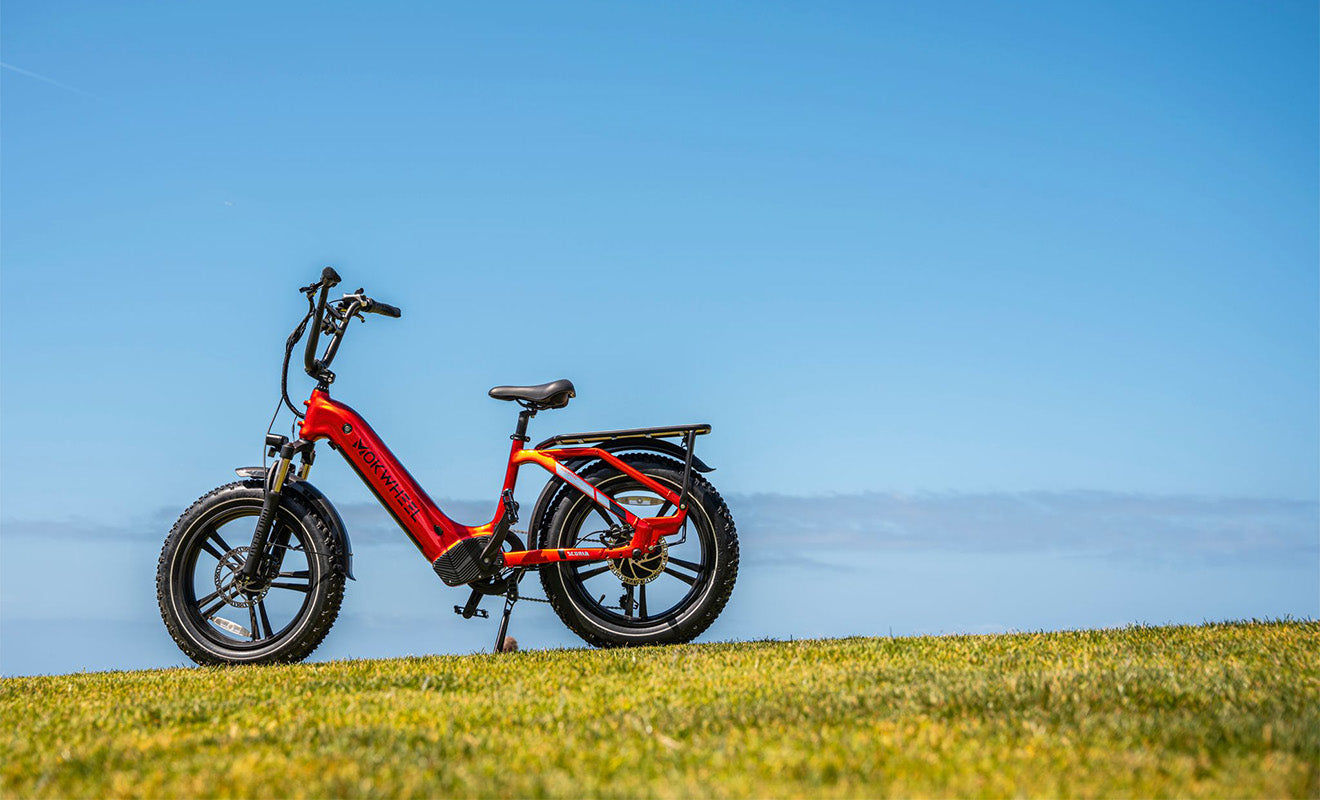 Basalt & Basalt ST
Power:

750W

Range:

80 miles

Battery:

48V 19.6Ah

Weight:

79 lbs. 

Capacity:

400lbs. (350 lb. for ST)

Limited Time Black Friday Price:

$1599
Basalt is Mokwheel's premium all-terrain bike and the world's first bike to feature power station technology.  It has a 750W motor, which is powerful enough for all terrains, and Mokwheel's largest Samsung battery pack, 940.8Wh. The same battery can be used as an AC source with Mokwheel's innovative 1000W power inverter. You can charge your phones, and power all sorts of electrical appliances with it.   
Basalt comes with (26 x 4-inch) puncture-resistant tires, 110 mm adjustable front suspension, and Tektro hydraulic brakes. That means you longer have to worry about uneven terrain and bumpy roads. In the assistance segment, you get 5 PAS levels that are precisely controlled by torque sensors. 
Its sturdy metallic frame coupled with power station technology, suspension, and fat tires make it a great all-terrain ebike. You get all these features at a discounted price of $1599. 
Learn more: Introducing Mokwheel Basalt in Jungle Camo: Conquer All Terrains with Style and Innovation
Scoria
Power:

750W

Range:

80 miles

Battery:

48V 19.6Ah 

Weight:

79 lbs. 

Capacity:

350lbs. 

Limited Time Black Friday Price:

$1,599

 
Scoria is a step-through cargo ebike with short and fat tires. Like Basalt, it does support the power station technology. Its motor power, battery, speed, and range are almost identical to both. It features a 750W motor, 48V 19.6 battery, and up to 80 miles of pedal-assisted range.
Its key highlight is a slightly lower frame (for easy mounting) and a solid rear rack (for baggage). The payload capacity of 350 lbs. is decent for most of the cargo and delivery jobs. The 4-inch tires and adjustable suspension ensure that you complete your rides with ease on different types of roads. 
For pedal assistance, Scoria has torque sensors. In case you're in a hurry and want to accelerate, the thumb throttle feature also exists. Speed transitions are also quite smooth, thanks to the Shimano 7-speed gearing system.
Tor Plus
Power:

750W

Range:

55 miles

Battery:

48V 16Ah 

Weight:

79 lbs. 

Capacity:

400 lbs.

Limited Time Black Friday Price:

$1,299

 
Tor Plus is another fat tire ebike, designed for off-roading. It features a powerful 750W motor and a sufficient 48V 16Ah battery pack. With this backup, you can expect a range of up to 55 miles.
The ebike has a solid Aluminum frame, with a decent payload capacity of 400 lbs. Since a rear rack is present, twin traveling could be an option. However, with (26" x 4) fat tires and an adjustable suspension, it's designed for tackling uneven terrains; a great choice for off-roading and country-side rides.
It has a customized leather saddle which makes the rider feel comfortable even on long rides. The cadence sensors further enhance the riding experience with their timely pedal assistance. 
How to Choose Your Ebike
If you dive right into the market without any research and clarity, finding and choosing an ebike becomes a challenge. So, it's best to set a criteria to choose the bike. Here are a few tips to get started:
Identify Your Needs
First, consider how you plan to use your ebike. Will it be for leisurely rides through the city or challenging trails in the countryside? Your usage greatly influences the type of ebike that will best suit your needs. The more specific you get, the easier it gets to narrow down your choices and find the one.
Check Performance Specifications
After defining your needs, examine the performance specifications of potential ebikes. Key factors include the motor's power, battery life, weight, load capacity, and range. For instance, if you need an ebike for off-roading, you need an ebike with a robust motor, ideally 750W, fat tires, and adjustable suspension. For city commuting and long rides, moderate power would suffice but large battery capacity should be a priority. 
Conclusion
Ebike market has been on the rise in the past years; multiple brands and options have emerged. However, if you're unclear about your needs or unaware of ebike parameters, it's challenging to find the right ebike, especially the one that provides true value for money. In this electric bike buying guide, we have listed down our 8 best ebikes that are optimally priced under $2000. You can choose any electric bike according to your budget and needs.
Now is the ideal moment to dive into our current website deals, where you can amplify your savings and delight in complimentary accessories when making a purchase. Our exceptional offers await, so don't miss out on this golden opportunity to make the most of them. Prepare for an elevated riding experience!
Always hear it first
Join our newsletter and be the first to hear about our special offers, latest products and all Mokwheel related news.
Need help? We're here for you
"Better than the best" - Mokwheel